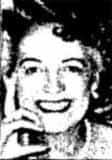 was missing from Arlington
Missing Since May 15, 1970
Age Then: 62
Age Now: 115
Gender: Female
Race: White
Height: 5'0-5'9"
Weight: 100-170lbs
Hair Color(s):Grey
Eye Color(s):Brown
Mrs. Andrews and her husband, Edward was last seen leaving a Friday evening cocktail party at a Michigan Avenue hotel in downtown Chicago, Illinois on May 15, 1970. A garage manager watched Andrews drive the wrong way – heading north in the southbound lanes – on Michigan Avenue. The theory prevails that the couple may have accidentally driven into the Chicago River and drowned, even though subsequent searches have proved nothing.
The following Monday police were called to the Andrews' house in Arlington Heights. Coworkers at the loan company where Stephania Andrews was a credit investigator thought it unusual when she failed to arrive Monday morning. Edward Andrews also hadn't checked in with his employer. He was a manager for Miller-Peerless Manufacturing.
At the Andrews' house, police found several newspapers untouched on the front lawn. Letters had piled up in the mailbox. The neighbors had a key, which they used to open the door for police. Inside everything was orderly. The only items obviously missing were the dress and jewelry Stephania Andrews had worn to the party.
If you have any information about Stephania Andrews please call Arlington Heights PD at 847-368-5360
Other Missing People From Arlington
Sorry, we couldn't find any posts. Please try a different search.