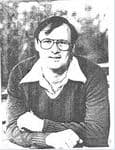 Missing
was missing from Glen Carbon
Missing Since April 13, 1995
Age Then: 42
Age Now: 70
Gender: Male
Race: White
Height: 5'11-6'0"
Weight: 200-205lbs
Hair Color(s):Brown
Eye Color(s):Brown
Circumstances and Updates
Joe Early, James father, reported to the police on April 29, 1995 that his son was suffering from depression and that James went to work on April 6th and never returned home.
On April 9th Joe's daughter called him and said that James was at her house in New York. On April 12th James's sister received a letter that told her to pick up his car, which was parked at JFK Airport. This is the last time that James was heard from.
Janet Early received a phone call on April 21st from Budget Car Rental on Paris, France. They stated that James had rented a car on April 13th and was to return the car on April 14th. He had not returned the car. On April 25th the rental car was found in Toulon, France, abandoned and damaged.
If you have any information about James Early please call Glen Carbon PD at 618-288-7226
Other Missing People From Glen Carbon
Sorry, we couldn't find any posts. Please try a different search.