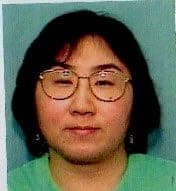 Missing Since August 10, 1999
Age Then: 39
Age Now: 63
Gender: Female
Race: Asian
Height: 5'2-5'5"
Weight: 130-140lbs
Hair Color(s):Black
Eye Color(s):Brown
Vehicle: Vehicle was recovered afew days later approximately 5 miles away from the home.

If you have any information about Xu Wang please call Darien PD at 630-353-8326
Other Missing People From Darien
Sorry, we couldn't find any posts. Please try a different search.