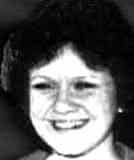 Missing
was missing from Chicago
Missing Since February 14, 1984
Age Then: 24
Age Now: 63
Gender: Female
Race: White
Height: 5'2-5'4"
Weight: 120-125lbs
Hair Color(s):Brown
Eye Color(s):Grey
Circumstances and Updates
According to prosecutors, on February 14, 1984, Marcy Jo Andrews and two other women went to Casey Nowicki's apartment at 2558 W. Iowa Street, in Chicago. Andrews met Nowicki for the first time that day. After some time there, Nowicki allegedly offered to drive the girls home. On the way home, they were involved in an accident in which Andrew's ankle was injured. Nowicki said he would take Andrews to the hospital, if the other two women would get the car towed.
Instead of taking Andrews to the hospital, Nowicki took her back to his apartment, where he drugged and sexually assaulted her.
Nowicki allegedly called a friend to help him put the body in the trunk of his mother's car. Andrews' body has never been found.
Nowicki was convicted of her homicide in July 2005
If you have any information about Marcy Andrews please call Chicago PD at 312-997-4410